Conundrum – to overdo or not to overdo?
Are you tired of limits having been place on how much jewelry you can wear? Nevertheless, it is now decidedly in fashion to throw every piece of jewelry you have onto your body. However, you could easily go wrong if lacking a sense of direction.
How to make a brilliant job of it
Layering is in, and you just gotta have the know-how to fit in. Layering is here to stay for the long term, having made inroads into the fashion establishments.
'Customized' and 'Individual' are in. It has consequently become more than imperative to get it right.
Let's dive right in!
Deal breaking factors will suck you into the fashion scene. Of course, you can have the knack of getting lucky, but fashion, besides being intuitive, is actually founded on Science. Also factoring in the physical dimensions of sterling silver necklaces, we can attain that winsome look.
 By taking delicate, short necklaces and combining those with slightly heavier, longer necklaces achieves a graduated look. Moreover, for a thrilling look, you could take a short gemstone necklace with a bit longer, small pendant necklace and finishing with an even longer, meatier, medallion type necklace.
 By combining a custom-made necklace with a couple of small charm necklaces and a longer pendant chain a tailored look is accomplished. Next, you may personalize your layering with an initial charm, or a meaningful date on a bar necklace. The pendant, with this in mind, could be uni-colored to brighten up the look a little.
Large necklaces are in great accord with other large necklaces, and same goes for small necklaces. Therefore, mixing these with medium sized necklaces gives excellent results.
Watches & Bracelets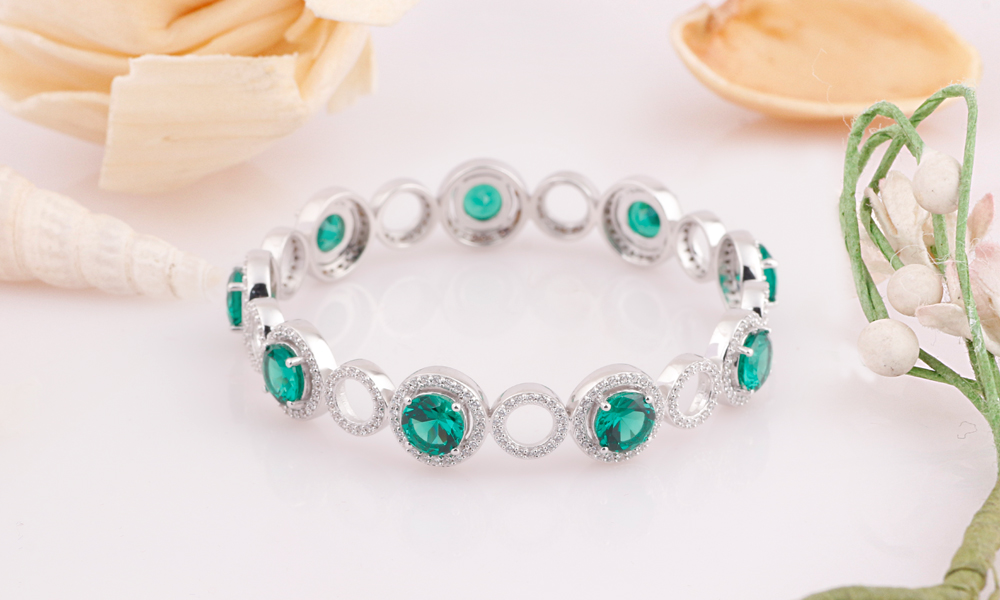 Supercool
Start with a gold-trimmed, multiple hued bracelet. Then, put in an attractive wrap bracelet. Next, just above a gaudy bangle throw on a beaded bracelet. Further, consummate this with a deceptively simple colored threaded bracelet. Painted nails melt right in into the new look.
Bohemian Gypsy
Begin with a heavier bracelet. Concurrently,  work the whole length of the hand with wrapping, patterned, beaded bracelets until your arm is choc-a-block with brilliants. It is definitely possible to add a smaller bracelet. Overall elegance is only enhanced by the addition of a dainty little pendant on a gossamer chain.
The nuanced Feminine
To work this strategy right into your schedule you need to deliberate the choice of bracelets and bangles to wear. The outcome has to be outfit-enhancing. Nevertheless, a couple of caveats will pre-empt heavy-handedness. This look is, for example, not aided at all by heavy chain links. In particular, calibrate your look only to the extent that the outfit reigns supreme. The layering does not have to overwhelm the outfit.
Unpretentiously Minimalist
Begin at the top with a small unembellished bracelet. Furthermore, enhance this with a heavier chain link piece. Then, lay on a bigger bracelet – rose gold silver bracelet would do nicely. Finally, consummate the ensemble with a dark hued metal.
Rings
Get used to assessing rings of different weights and thicknesses. Specifically, the look is heightened by the addition of a long ring. If, however, you wear a handpiece you will have to put bounds on your stacking. Apparently, a fragile looking handpiece allows for the play of very dainty rings. A statement handpiece, moreover, is enhanced by its innate freedom.
It goes well on its own and does tolerate a bit of embellishment with silver rings. If you can get your hands-on same size rings of different colors, there's no way you can overdo this. You could, furthermore, give a think to the intriguing thought of one metal, different colors for each arm/hand, so that both arms/hands end up complementing each other fabulously. Go with the flow-trust your guts. You will, finally, be very chic and elegant – only have the several rules of thumb in the back of your mind while you are still deciding.
General Slipups
You don't have to deck yourself out to the point of exhaustion. In particular,  leave a bit of your ingenuity for the future. With time, your guts can definitely learn the skills of layering by heart.
 Do not go in for too much variation. You don't want to strain your ensemble.
Exercise caution while lining up your midi-rings. Take care they are a manageable size, not prone to slipping off.
Remember, you can be chic and classy without being too ostentatious. If a doubt nags you just as you are leaving home, take off just one brilliant. You will be fine.